Welcome to Muirkirk
---
Muirkirk Community Council Election
Monday 2nd February 2015
@ 7pm
in the IFE Wing, Burns Avenue
Closing date for nomination papers
Monday 26th January 2015
If you reside within the Community Council area
and are interested in becoming a local Community Councillor,
nomination papers are available from
Muirkirk Library, 2 Burns Avenue, Muirkirk;
or from
Stuart Nelson, Democratic Services Officer,
Council Headquarters (Tel No 01563 576151)
or by
downloading the Nomination Paper
from the East Ayrshire Council website .
NOTE:-
To be able to stand for or vote in the Election,
members of the public will require to be
listed in the Electoral Register for the area of the Community Council.
At a previous meeting called with a view to electing
Community Councillors and held on 1st December 2014
there were only 5 nominees which was
insufficient to form a new Community Council.
---
Community Led
Action Plan for Muirkirk
On 22nd January a meeting will be held in the IFE Wing
to discuss the development of a
community led action plan for Muirkirk.
This is being organised by Lyn Johnstone
a Vibrant Communities worker with East Ayrshire Council
Find out more about East Ayrshire Vibrant Communities project here
---
Muirkirk Boys' Brigade Company
Muirkirk BB urgently needs more volunteers to help with the Company Section.
Please contact
Bobby Hill 07710 168 672
or
Leslie McLaren 01290 661493
---

Scotland's drink drive limit was reduced
on the 5th December 2014 to
50 milligrams of alcohol per 100 millilitres of blood

---
Muirkirk Karate Classes
Fridays 5.30pm to 7.30pm
in the IFE Wing, Muirkirk
---
Superfast Broadband
Now available in Muirkirk
Superfast Broadband is now available in Muirkirk.

Internet providers are now offering Superfast Broadband to consumers in Muirkirk with speeds, depending on your package, of up to 80Mbps.

A check of one Muirkirk phone number in Smallburn shows a potential speed of up to 68Mbps.

You can check specific information about your broadband cabinet at http://dslchecker.bt.com/adsl/ADSLChecker.AddressOutput
---
Muirkirk Enterprise Group
Nearly New Shop
Garan House, Main Street
open on
Monday, Tuesday & Wednesday
10am to 3pm
New items coming in every day
Large selection of books
Clothes to fit all sizes
Something for everyone
---
a guid fun wey tae lairn oor language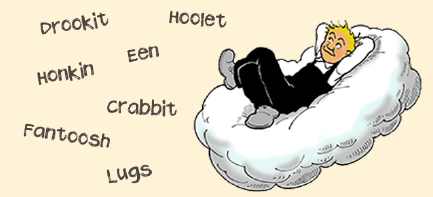 Oor Wullie is helping children learn Scots through an online initiative developed by the National Library of Scotland.
The Oor Wullie's guide tae Scots language website aims to introduce six to 11-year-olds to the richness of the Scots tongue.
The site features activities such as quizzes, word searches, flash cards and the opportunity for children to design their own comic.
Other features include a glossary of words such as "fantoosh", "bampot" and "muckle" as well as poems and songs and an audio map which allows children to submit a recording of their own use of Scots to help build up a picture of dialects across Scotland (Who will be the first from Muirkirk to submit a recording?)
In the Glossary are some wirds tae help ye get stertit lairnin Scots. Ye can hear whit the wird soons like first in Scots an than in English. Ye can read whit the wird means an how it can be yaised in a sentence anaw.
---
Citizens Advice Bureau
Outreach Surgery
Thursdays 10am to 12.20pm
Muirkirk Community Museum
---