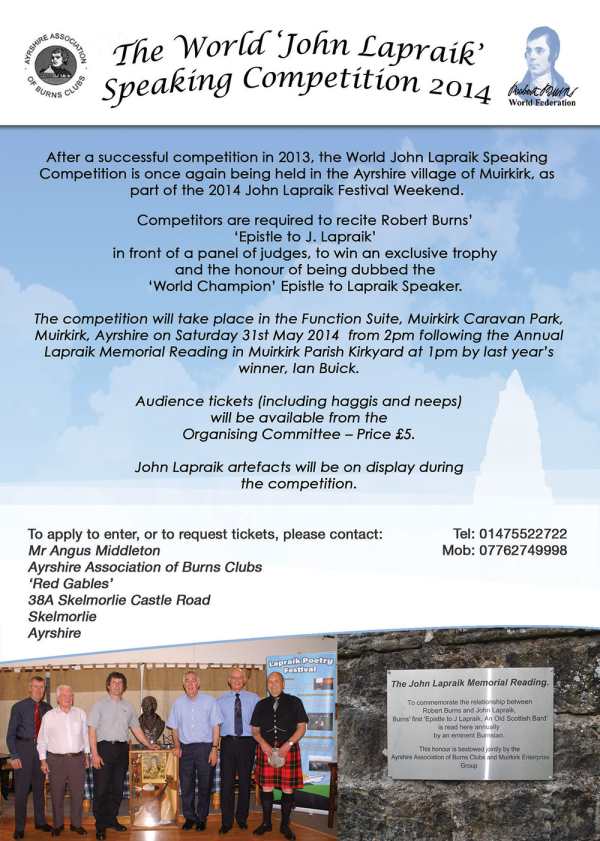 Muirkirk Enterprise Group
Annual Dinner
Friday 21st March 2014 @ 7.30pm
Speakers
Angus Middleton and Adam Train
Anyone wishing to attend is requested to contact
Vida Trotter on 01290 661238
---

D W Shaw, Solicitors, Estate Agents and IFAs
Legal Advice Clinic
1st Monday of each month (commencing 7th April)
9.30am to 1.30pm
in Garan House, 28 Main Street (first floor, entrance by side door)
D W Shaw can provide advice on a range of legal matters, including
Making a Will, Family Law, Personal Injury,
Powers of Attorney and Guardianship, Housing Matters
---

Muirkirk Lapraik Festival 2014
Crambo Jingle and Sang
Friday 30th May 2014
Tickets £7.00 (inclusive of snack meal)
Contact 01290 661324

---

Muirkirk Enterprise Group has entered
the Scots Toun Award Competition
using the Lapraik Festival as an example
Muirkirk's entry has been compiled
by John Morran and Douglas McKenzie.
The Scots Toun Award aims to recognise the use, celebration, support and promotion of the Scots language in community life.

The Scots Toun award is aimed at identifying communities where Scots language culture is encouraged and promoted.

This can take the form of festivals, writers groups, kirk services, street naming policies that encourage the use of traditional names, the use of Scots in public signage and the development of language based tourism.

The organisers are hoping to hear about projects that help promote a sense of cultural and community vitality and wellbeing and that seek to encourage new generations to learn the about the language and its rich culture.

Entries for the Scots Toun of the Year award had to be submitted by 28th February 2014 with the award being announced on 30th April 2014 and winners presented on 10th June 2014.

More information can be found on Scots Toun Award website and more information, in both English and Scots, about the organisers on the website of the Centre for the Scots Leid
---
Muirkirk Enterprise Group
Nearly New Shop
Garan House, Main Street
open on
Monday, Tuesday & Wednesday
10am to 3pm
New items coming in every day
Large selection of books
Clothes to fit all sizes
Something for everyone

Lives of the First World War
Do you have relatives who served in the First World War? This project aims to bring official records and family memories together - see
http://www.livesofthefirstworldwar.org/
for more information.

Citizens Advice Bureau
Outreach Surgery
Thursdays 10am to 12.20pm
Muirkirk Community Museum
---