Irondale House Muirkirk

Irondale House
from a photographic postcard by
J Johnstone, Photographer,
who had a studio in Furnace Road, Muirkirk
Once a dominant building, highly visible to those travelling from the Kames area on the south side of the village, along Furnace Road, Irondale House was originally built as The Great Inn in 1790, serving as a halfway house for coaches and travellers at the cross-roads of the routes from Ayr to Lanark and Edinburgh and Strathaven to Sanquhar. Opposite the former location of this building is a hotel known as the Coach House Inn (and onetime as the Black Bull) which is the former stables for the Great Inn.

The building of the Sanquhar road significantly improved short and long distance communication. The Great New Inn, built in1790 at the top of Furnace Road in the village was a halfway house on the coach run from Ayr to Lanark and Edinburgh and also served travellers on the Strathaven - Sanquhar run.
The Ironmasters took over the building and it was renamed Irondale House and was home for the Manager of the Works and latterly National Coal Board. employees.
At one time the local doctor also lived here with his surgery situated at the rear of the building.
In 1891, The Medical Register records "Fulton, Andrew Boyd MB, Mast.Surg. Glasgow 1884  - Irondale House, Muirkirk"
According to Cairntable Echoes, in 1925 the Muirkirk Advertiser recorded that Mr William McCulloch or Irondale House, gained his Diploma at Glasgow School of Art.
Irondale House was demolished in 1960.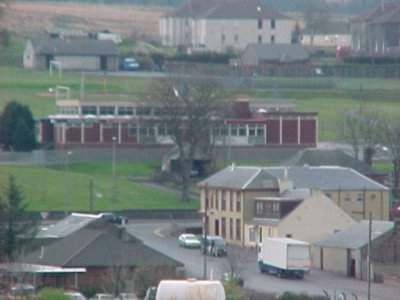 A more recent view of Muirkirk, looking towards the Furnace Road juntion
across which The Great Inn / Irondale House once stood