Cairntable Race

12 noon Saturday 14th June 2008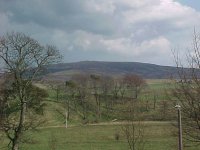 The Cairntable Race is run annually from the village of Muirkirk to the peak of Cairntable, one of the highest hills in Ayrshire, and back again.
The 2008 race begins at 12 Noon on Saturday 14th June. Registration took place at the Walkers Car park prior to the event. Entry to the event was £5.
35 runners took part in the 2007 Cairntable Race. The winner, from Kilmarnock, completed the course in 33 minutes 53 seconds.
Two of the runners came from Muirkirk. Graeme Griffin took 48 minutes 56 seconds and Jimmy Mullen took 53 minutes 12 seconds.
For further information, contact 01563 554751 or e-mail louise.kyle@east-ayrshire.gov.uk
Cairntable rises to a height of 593 metres above sea level and the race covers 6 miles.
In 2006, 39 took part, both Muirkirk locals and members of running clubs. The winning time was 32.48 minutes, which smashed the 2005 time of 39.29 minutes.